Management approaches in moderate-to-severe AD should address the persistent underlying Type 2 inflammation

Three types of immune response play a natural protective role against different pathogens, the Type 2 immune response drives AD specifically2–4


Broad spectrum immunosuppressants do not specifically inhibit Type 2 inflammatory pathway5–7



Non-specific mechanisms may result in unwanted side effects and the need for lab monitoring, limiting traditional systemic treatments as long-term therapeutic options2,5–10
IL-4 and IL-13 drive Type 2 inflammation
IL-4 and IL-13 are key Type 2 cytokines involved in the pathogenesis of AD2,4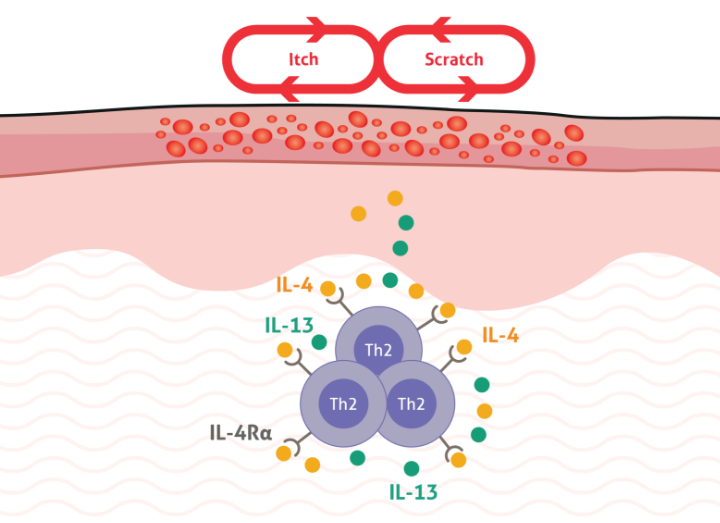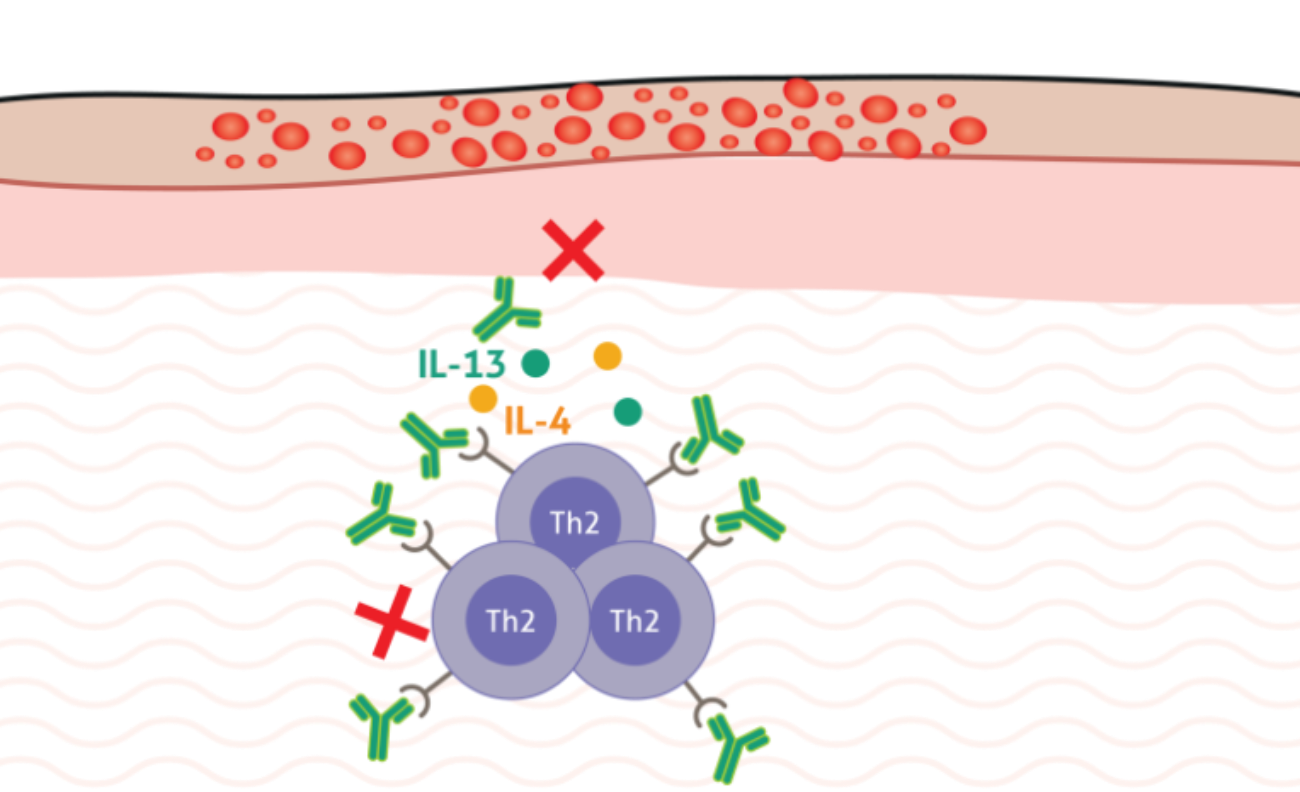 DUPIXENT targets Type 2 inflammation
DUPIXENT inhibits IL-4 and IL-13 signalling, and reduces persistent underlying Type 2 inflammation in AD1,20
DUPIXENT demonstrated a safety profile in clinical studies that is consistent in adults, adolescents and children1

DUPIXENT has a long-term safety and tolerability profile that has been investigated up to 3 years in clinical trials in adults1,21


The long-term safety profile seen in adults is consistent with the safety profile of adolescents and children, seen at 16 weeks1,22,23


DUPIXENT does not require routine laboratory monitoring1
AD, atopic dermatitis; IFNγ, interferon gamma; IL, interleukin; ILC, innate lymphoid cells; JAK, Janus kinase; NK, natural killer cells; Th, T-helper cells; TNF, tumour necrosis factor.

References

DUPIXENT Summary of Product Characteristics. September 2021.
Leung DYM, et al. J Clin Invest. 2004;113(5):651–657.
Suárez-Fariñas M, et al. J Allergy Clin Immunol. 2011;127(4):954–964.
Gittler JK, et al. J Allergy Clin Immunol. 2012;130(6):1344–1354.
Hajar T, et al. An Bras Dermatol. 2018;93:104–107.
Wakelin SH, et al. Medicine. 2017;45:363–367.
Moyle M, et al. Exp Dermatol. 2019;28:756–768.
Seegräber M, et al. Expert Rev Clin Pharmacol. 2018; 11:467–474.
Armstrong AW, et al. PLoS ONE. 2019:14:e0210517.
Wu J & Guttman-Yasky E. Expert Opin Biol Ther. 2020;20:525–538.
Kaiko GE, et al. Immunol. 2008;123:326–338.
Eyerich K & Eyerich S. J Eur Acad. 2017;32:692–703.
Raphael I, et al. Cytokine. 2015;74:5–17.
Schwartz DM, et al. Nat Rev Rheumatol. 2016;12(1):25–36.
Murray PJ. J Immunol. 2007;178(5):2623–2629.
Annunziato F, et al. J Allergy Clin Immunol. 2015;135(3):626–635.
Schleimer R. Annu Rev Pathol. 2017;12:331–357.
Nakayama T, et al. Annu Rev Immunol. 2017;35:53–84.
Coates LC, et al. Semin Arthritis Rheum. 2016;46:291–304.
Blauvelt A, et al. Lancet. 2017;389(10086):2287–2303.
Thaçi D, et al. Favorable Safety and Sustained Efficacy With Long-Term Dupilumab Treatment in Adults With Moderate-to-Severe Atopic Dermatitis: An Analysis up to 3 Years (LIBERTY AD OLE) presented at the 20th Annual Las Vegas Dermatology Seminar, Nevada, USA, November 7–9 2019.
Paller AS, et al. Am J Clin Derm. 2020;21(1): 119–131.
Paller AS, et al. J Am Acad Dermatol. 2020;83(5):1282–1293.
MAT-IE-2101040(v4.0) | Date of preparation: February 2022